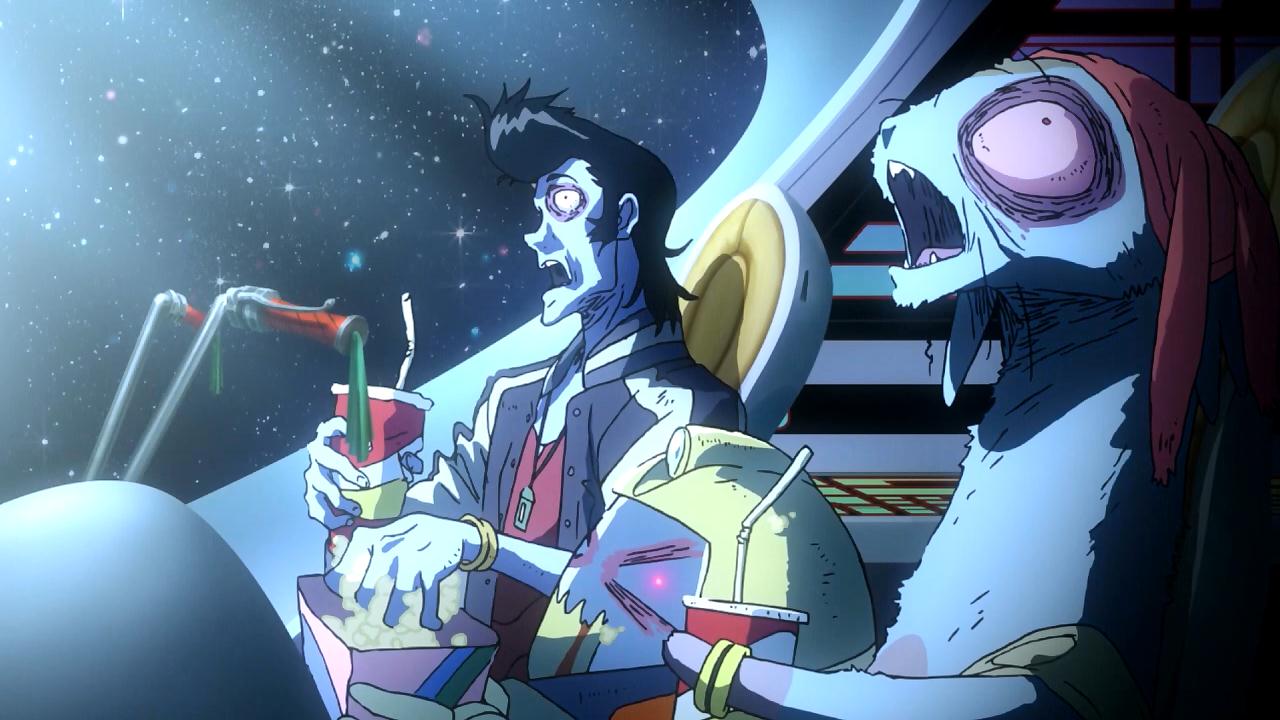 #
Kaia don't
don't open it I don't wanna see
don't please
don't
Kaia don't
its dark out there
don't
#
Last night I had a dream, a space dream that reminded me black and white of younghood, of anxiety times when I used to fear things like knives/ freddy/ dying before Christmas/ being cut/ recycling my mother's madness and worst of all floating above Jupiter without any support nearby no other ships or space stations or defiant or kira nerys to swoop in and save me from floating downwards to the surface of big non-ascending Jupiter and there was no spaceship holding me either it was just me and my spacesuit and my helmet and my gloves and that's about it and although it takes time to be pulled into the atmosphere I was in a dream and dream time was the constant I was dealing with so
I could see the planet getting closer and closer and the red spot getting bigger and bigger as big as Neptune until quickly it was gone and the black was gone and I was falling into the pink and grey and blue misty stuff the thermosphere or troposphere and I know technically I should've been crushed or having a heart attack at this point but it was a dream so it was a hundred times worse.
The idea that you have no idea where you're floating to it's been done a few times in star trek specifically the night episode of Voyager and every time it makes me anxious I can't help it and every time it happens in my Jupiter dream I wake up and thank the universe that I'm not anywhere near that fucking planet and am unlikely to be so for the rest of my life.
I want to go to space someday, just not alone in a spacesuit and not too deep where its dark and
#
Anyway the dream I had last night was similar to the Jupiter one in that I was getting into a small small tiny space capsule here on earth with a kid and a woman I didn't know or had even seen before but in the dream I felt close to them so they must've been my alternate family the one that only sometimes exists in dreams like this and after we were in the capsule the plan we all knew was to shoot us horizontally into space not vertically and the concept of the space travel was [from what I can figure] the same as it was in BSG where the ship jumps from spot to spot to cylon ambush which I've read is actually closer to what warp travel would be if it were real but I might be wrong on that I don't know much about space physics or science not that it matters much as the point of the space capsule was not to explore space but to be afraid of it as
myself and my alternate family were sealed in by a man in a grey suit and then there was silence maybe a countdown outside we didn't know we couldn't hear anything and then somehow I don't know how but somehow we all knew that the plan had been initiated and the capsule had jumped and stopped and jumped again and we knew the theory behind what was happening so we knew we weren't on our planet anymore we were out in space and
we'd stopped jumping and had settled down so we hadn't hit anything rocky or weird which my alternate wife said was pretty unlikely anyway as space was huge and the chances of actually hitting anything like an asteroid or random debris or whatever was 1,000,000,000,000,001 to 1 and I nodded my head as it sounded accurate enough and the kid who I think was the one she was telling in the first place nodded his head too and
then we relaxed a little or tried to and sat with our backs against the capsule wall listening for exterior sounds and talking about why we were out there which was mute in the dream as I had no idea why anyone would take their family out into deep space without a plan or a map or a fucking light switch even but anyway that was irrelevant as for whatever reason we were there and after we'd finished talking or ran out of things to say we leaned on each other's shoulders and stared at the metal and the numbers and the word Sanctuary painted on the wall and
pretty soon we had nothing left to do except wonder what was outside the capsule which seemed obvious as outside was space and the stars it had to be but there are two versions of space the friendly star trek version and the real version where the blackness is both haunting and overwhelming for no reason anyone has ever been able to explain and somehow I just knew that if we made the capsule transparent which seemed to be possible in the dream then the sudden blanket of total incomprehensible blackness would be too terrifying for any of us to cope with so
instead as an alternative to total incomprehensible blackness my alternate wife and kid and I just sat there looking at the metal again and the word sanctuary and left the outside to our imagination which thinking about it now was probably even worse as there's no greater terror than the terror of not knowing what's out there especially in space where the physics are strange and quantum and the aliens we pine for might not even exist and
it didn't even matter because I knew we were nowhere good I knew we were in some horrible area of nothingness with no colourful nebulas or space stations or life of any kind we were completely on our own deserted done for and at the mercy of something that didn't even have a face or a brain to make plots against us something far worse than any other something because it wasn't anything it was nothing or it was nothing we could comprehend and the thought of that alone made me hug my alternate family and sweat and
look for drugs in the cracks of the panels next to the word sanctuary on the wall which may have had some kind of irony or allegory to it I didn't know I didn't care I just wanted to put something in my body that would make me forget I was surrounded by nothing and that nothing didn't want to do anything except hang there and do nothing at all just exist and hang there and terrify me panic me to death in front of my alternate kid and the only way out the only respite to all this was when I woke up and
realised I was no longer in a tiny capsule in the nothing void I was on the 21st floor of a building in Hong Kong which wasn't great either but at least there was ground and at least it was finite and stopped where it was supposed to stop and to make myself forget about it all to shake the fear and the anxiety off if that was even possible I got up and kissed my girlfriend and
watched the episode of star trek where Kira flies planet to over-populated planet and the space around her is black but a friendly shade of black and journeys take a matter of minutes not years and once I'd got that version back in my head everything was okay my anxiety was gone or was dormant or had re-modulated itself back into regular anxiety and the universe around me was small and traversable and fake-knowable again.
#
When I'm surrounded by people here in Hong Kong I take out a pad and write down how long it takes the enterprise to go from wherever they are to somewhere else.
Risa to the Klingon home world.
Bajor to Cardassia.
Kowloon Bay to Choi Hung.
The Alpha Quadrant to the other one.
In the narrative, it takes days or weeks.
On screen, for me, four scenes.
The characters on the ship, ordering the trip.
The ship flying from one end of the TV to the other.
The characters on the ship, saying whatever the script tells them to say.
The ship orbiting the destination planet.
That's it.
No time for anyone to worry about concepts or smallness.
No terror.
No anxiety.
Of course
In real space it would take hundreds of years.
And you'd be alone.
Alone with other people just as terrified as you are.
Your alternate family.
#
I had another dream last night a different one about the clown from IT and it was weird because I hadn't seen IT since I was fifteen when my mum said she couldn't cope she couldn't cope anymore so she was gonna walk into the sea but she didn't she came back eventually thank god and it didn't matter because the dream wasn't about that it was completely different very simple very repetitive just me walking round the lake to get to the building where IT lived and going inside and trying to make funny comments so IT would appear and then it wouldn't be scary anymore and I walked around for a while with slight dread but not complete dread because I knew that fucker was around somewhere and I knew what he was and what he looked like and tim curry wasn't even that big or tough so maybe I had a chance to smack him and get out of there and as soon as I thought this IT appeared and he tried to bite me on the neck but it looked ridiculous so I told him to stop and talk to me tell me what's going on why you doing all this IT and as soon as that happened it all turned into a sitcom with IT living in my house and me bringing him food and water and teaching him how to go through the day without hurting people or turning on the water when my mum was around or stepping off the newspaper she'd laid down when we'd just come back from my dad's place and when I woke up this time I actually sat up and rubbed my eyes and thought man I miss that guy he wasn't as bad as king said he was not that bad at all and definitely not as bad as…
#
To: olithemanx@hotmail.com
From: mum
Subject: re: update
Don't worry about me, I'm fine. You know I have no qualms about being alone. If anything I prefer it as it cuts down on intrusions, especially when I'm as tired as I usually am in my current state. Yes, as long as I have my TV and my bed I'm a happy bunny.
I'll get in touch later in the week to let you know what the doctor says.
Love Mum
—
To: mum
From: olithemanx@hotmail.com
Subject: re: update
Is Charlotte still coming round?
Oli
—
To: olithemanx@hotmail.com
From: mum
Subject: re: update
No, she's very busy at work. But it's fine, I much prefer it this way. Makes it easier to cope with everything.
Love Mum
—
To: mum
From: olithemanx@hotmail.com
Subject: re: update
Okay. If you think that's best.
Btw, finally got my visa. Next up: Cantonese lessons.
Oli
—
To: mum
From: olithemanx@hotmail.com
Subject: re: update
Haven't heard from you in a while…you okay?
Oli
—
To: mum
From: olithemanx@hotmail.com
Subject: re: update
Mum?
#
Whenever the star trek version of space seems in danger mostly from scientists saying yeah we found another planet but it's not quite right not enough like our planet to say for sure that aliens could live there and yeah when this happens I repeat three things in my head or one thing followed by two extras which is probably more likely as you never know the number of points until the list is done but anyway these are the three things that do circles in my head
Every planet we discover that doesn't have aliens is meaningless.
There are billions left.
Don't panic.